Place Holder Token Set - Red (set of 10) [clearance]
Place Holder Token Set - Red (set of 10) [clearance]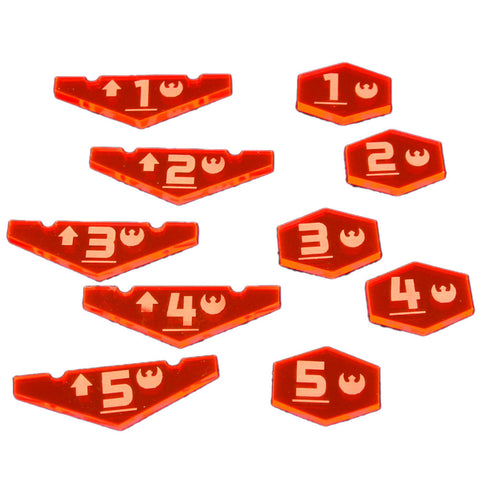 Place Holder Token Set - Red (set of 10) [clearance]
Description:
Set of 10 tokens, two sets of numbered place holder and hex tokens.
Place holder tokens for use with Star Wars: X-Wing* compatible bases.
These are designed to align with the back side of your ship bases so you can remove them from the table top. This makes it much easier to measure ranges and check maneuvers in tightly formed groups of ships.
There are enough tokens in this set for 5 different ships to be marked.
*LITKO Space Fighter, Place Holder Token Set designed for use with the X-Wing board game by Fantasy Flight Publishing, Inc. , Litko Aerosystems, Inc. is not affiliated with Fantasy Flight Publishing, Inc. and they do not endorse these products.
Free shipping to U.S. over $150.
$20 refund to non-U.S. orders over $100.