The Voyages of Marco Polo™ compatible Deluxe Token Bundle (set 67)
The Voyages of Marco Polo™ compatible Deluxe Token Bundle (set 67)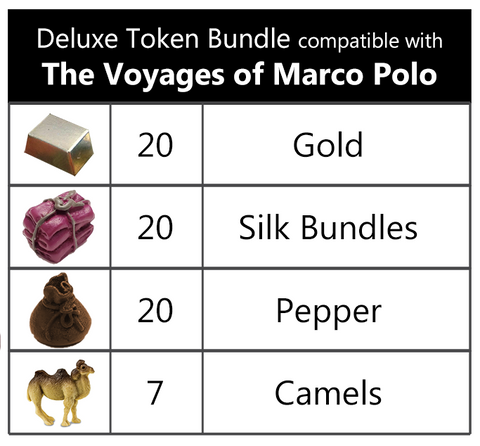 The Voyages of Marco Polo™ compatible Deluxe Token Bundle (set 67)
by Top Shelf Gamer
Description:
One of our favorites here at Top Shelf Gamer, Voyages of Marco Polo
™
 is a great game that deserves the deluxe treatment.  This token bundle is an excellent upgrade to your game and is sure to be a great add to your game experience. The pieces that come with the game are decent but this takes your gaming to a whole new level.
This bundle comes with the following tokens:
Note

that the camels are made of a rubber material and are not made of the resin of the other tokens (or metal in the case of the gold).  The camels are a great add since we use them as the large "5" token of the camels.  The "5" big camels that come with the game are difficult to tell from the 1 camels.  So not only do these camels add aesthetically, they also have good utility.
Free shipping to U.S. over $150.
$20 refund to non-U.S. orders over $100.