Mansions of Madness™ (1st edition) compatible Deluxe Token Bundle (set
Mansions of Madness™ (1st edition) compatible Deluxe Token Bundle (set of 90)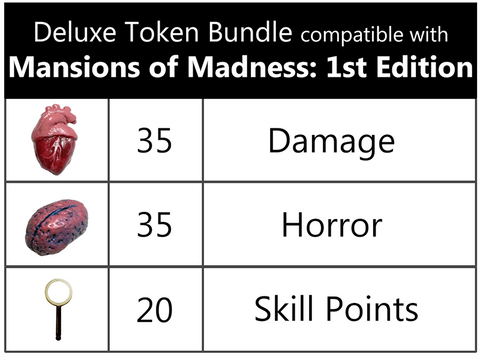 Mansions of Madness™ (1st edition) compatible Deluxe Token Bundle (set of 90)
by Top Shelf Gamer
Description:
The excellent storyline that unfolds in Mansions of Madness
™
 deserves the best tokens to fully immerse your gaming group. Good thing we have you covered!
This realistic resource upgrade kit has everything that you need to take your game to the next level and brings life to your game night!
Produced by Stonemaier Games, the heart tokens and brain tokens are made of a hefty resin, and the magnifying glasses are made of metal. All realistic tokens in this bundle are hand-painted for exceptional quality.
* 20 Magnifying Glasses (Skill Point)
* Tokens in this bundle are for the First Edition.
Free shipping to U.S. over $150.
$20 refund to non-U.S. orders over $100.