Damage Tokens (set of 10)
Damage Tokens (set of 10)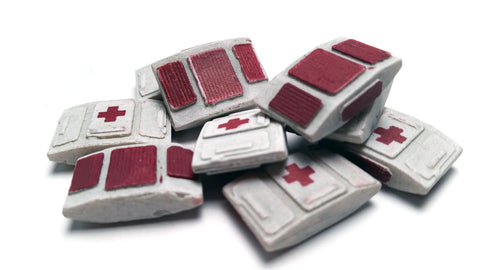 Damage Tokens (set of 10)
by Top Shelf Gamer
Description:
Set of 10 Realistic Damage Tokens made of resin and beautifully painted.
Gamers have enjoyed them with the following games:
*Battlestar Galactica  with12 tokens
*Sid Meier's Civilization with 28 tokens
*Dead of Winter with 25 tokens
*Eclipse with 12 tokens
*Galaxy Defenders with 40 tokens
*Imperial Assault with 85 tokens
*Space Alert 35 with tokens
*Starfighter 20 with tokens
*Xia: Legends of a Drift System with 80 tokens
*X-Wing with 33 tokens  -  no damage token but damage cards with additional effects on one side
20mm long
13mm wide
6mm thick
*Please note these tokens are designed and manufactured by Stonemaier Games. 
Rights holders of these board game titles are not affiliated with nor do they endorse these tokens.
Free shipping to U.S. over $150.
$20 refund to non-U.S. orders over $100.