Roll for the Galaxy™ compatible Metal Coin Bundle (set of 33 )
Roll for the Galaxy™ compatible Metal Coin Bundle (set of 33 )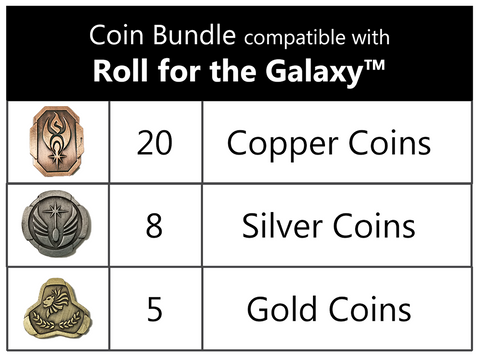 Roll for the Galaxy™ compatible Metal Coin Bundle (set of 33 )
by Top Shelf Gamer
Description:
Add some hefty clank to your Roll for the Galaxy™ game with these beautifully crafted metal coins.
Curated from our wide collection of metal coins to best suit the theme and quantity needs of the game.

Contains:
20 copper coins
8  silver coins
5  gold coins 
One 3" x 4" burgundy velvet drawstring bag

Roll for the Galaxy is a copyright of Rio Grande Games. All rights reserved. No challenge to any intellectual property rights are intended or implied by representations of compatibility and no endorsements of this product by any other company is implied or represented.
Free shipping to U.S. over $150.
$20 refund to non-U.S. orders over $100.