Keyflower™ compatible Deluxe Token Bundle (2 player set) (set of 60)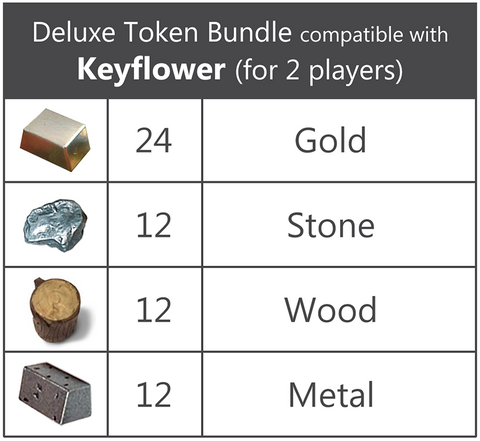 Keyflower™ compatible Deluxe Token Bundle (2 player set) (set of 60)
by Top Shelf Gamer
Description:
Keyflower
™
 is a modern boardgame classic.  Give it the treatment it deserves with this exquisite upgrade bundle.  Ditch the wood pieces and make every gaming experience special with these realistic tokens.
Due to the large quantity of resource tokens in the game, this token bundle comes with enough quantity to fulfill, on average, the needs of a

two player game

.  If you find yourself with more players, we suggest buying two copies of this bundle or purchasing 10-piece sets of each token, also available at Top Shelf Gamer.
Each Keyflower token bundle comes with the following:
The gold, stone, and metal are made of solid, hefty metal.  The wood is composed of a resin and pained with great detail.
Free shipping to U.S. over $150.
$20 refund to non-U.S. orders over $100.