Glass Earings - Green Meeples
Glass Earings - Green Meeples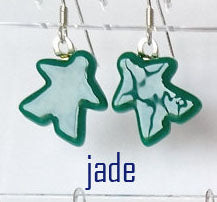 Glass Earings - Green Meeples
by Jenefer Ham Glass
Description:
Beautifully handmade meeple earings using Bullseye glass and properly annealed for a lifetime of enjoyment. 
Dimensions are about about 18x18mm for just the meeple shape. The earring findings add about 17mm to the 'dangle' length.
The earring wires are sterling silver.
Your glass will come safely wrapped, and in a lovely velvet pouch.
A little about the artist Jenefer Ham.

  Originally from the US, Jenefer currently lives in beautiful sunny Malta, and the views of the Mediterranean Sea from her front window provide her with daily inspiration for her craft.  Each piece is carefully made by melting coloured glass rods with a small tourch; layering each color of molten glass individually while in constant rotation by hand. 
Jenefer is extremely passionate about her intricate lampwork glass art and loves creating unique and special pieces. She is also an avid board gamer which led to the beautiful pieces you see here. You may also know her very well by name if you are a fan of Rhado Runs Through It.  YES! This delightful artist is the opponent "Jen"/wife Richard is always playing against! 
Free shipping to U.S. over $150.
$20 refund to non-U.S. orders over $100.