PREMIUM Mayday 63.5 x 88mm Blue Backed Card Sleeves (set of 80)
PREMIUM Mayday 63.5 x 88mm Blue Backed Card Sleeves (set of 80)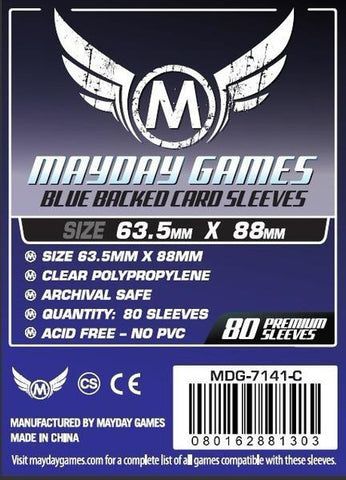 PREMIUM Mayday 63.5 x 88mm Blue Backed Card Sleeves (set of 80)
by Mayday Games
Description:
Card Sleeve size - (66x91mm will be printed on the pack of card sleeves) - 80 Pack
Introducing the ultimate CCG/MTG card sleeve! Crafted in collaboration with MTG/CCG experts!
We put out a battle cry to MTG™ Players to help us design the best possible card sleeve for MTG, and what you see here is the result of countless months of collaboration.
Each pack comes standard with 80 high quality, ultra premium sleeves per pack, featuring a thick black-backed card sleeve that is slightly textured with a matte finish. These sleeves are perfectly clear and have no annoying circular logos or holograms in the corners that might cover up text or the beautiful art on your cards.
About these card sleeves:
These are for cards that are 63.5 X 88 MM, like Magic The Gathering™ Cards. So why are they stated as having dimensions of 66 X 91 MM? Good question! Other sleeve suppliers state their MTG sleeves as this much bigger size, for no reason we can figure out other than that their sleeves are way to big. Ours fit much better than theirs, so don't let the stated dimensions here fool you!
Free shipping to U.S. over $150.
$20 refund to non-U.S. orders over $100.