Roman Gold Coins (set of 10)
Roman Gold Coins (set of 10)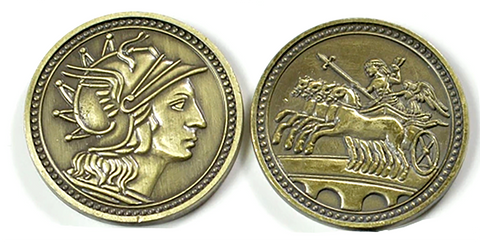 Roman Gold Coins (set of 10)
Description:
Metal coins - more fun! This pack is the ideal supplement to your game of choice. Increasing your fantasy funds can add depth to game play and open up the possibilities for new adventures! Pack contains 10 Gold Roman coins, all in the usual high quality you expect from Fantasy Coin, LLC.
 
The gold coins measure 30mm x 2.5mm. All coins are struck from high quality zinc, electroplated with colored nickel and coated with an antique finish. Our coins look, feel and even sound as if they've come directly out of a fantasy realm!
 
WARNING - Choking hazard - keep away from children!


Free shipping to U.S. over $150.
$20 refund to non-U.S. orders over $100.