Robinson Crusoe™: Sailor Health Tracker
Robinson Crusoe™: Sailor Health Tracker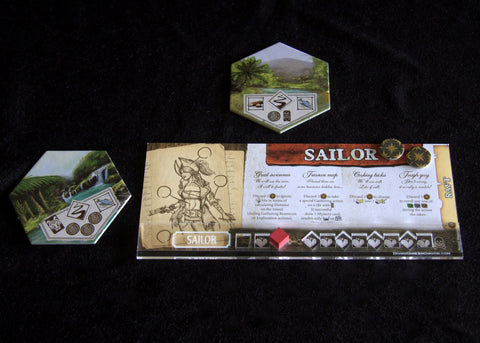 Robinson Crusoe™: Sailor Health Tracker
by Board Game Innovation
Description:
Have you ever accidentally moved your Health Cube while playing a game of Robinson Crusoe
™
? Reach for your drink, another piece on the board and suddenly you have 2 more or 2 less health than you did before, or maybe the Cube isn't even on the character sheet anymore? Control your cubes with our custom Trackers. Our custom trackers hold onto your cubes, keeping them from moving independently up and down the scoring track if you hit your mat during play. Includes One Sailor Health Tracker compatible with the Sailor Character card sold by Portal Games via Kickstarter and on their website.  Patent Pending.
*No other pictured items included in sale.  Tracker may come with paper or plastic backing on one side to prevent scratching during shipping.  Simply use a fingernail  to lift a corner then peel off with your fingers.
Free shipping to U.S. over $150.
$20 refund to non-U.S. orders over $100.