Single-Sided Neoprene Goal Mat for Wingspan (set of 2)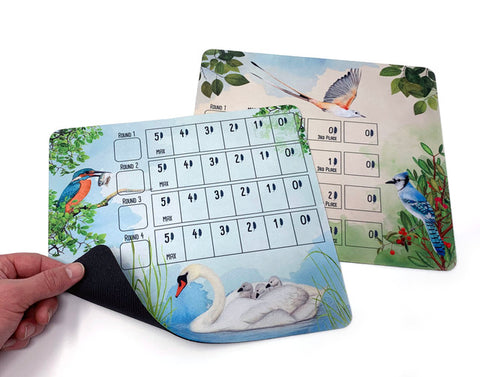 Single-Sided Neoprene Goal Mat for Wingspan (set of 2)
Description:
The Goal Board - but as a Pair of Neoprene Mats!
The size of each neoprene mat is approximately 25cm x 28cm x 1.6mm (thickness).
 The Artists
Bird art for this board was commissioned especially for this piece to include some of our favorite feathered friends from Wingspan and the European expansion. The blue side features the mute swan (with adorable babies!) and the kingfisher just after he has caught his lunch, both by Natalia Rojas. The green side was drawn by Ana Maria Martinez Jaramillo and features the blue jay and a scissor-tailed fly catcher swooping down from above! Ana also worked on the graphic design for both sides of the board, to really bring it all together. 
This product listing is for the two neoprene mats, one of each art print. We do not expect to offer them individually at this time.
PLEASE NOTE: This upgrade is not a Stonemaier Games product, although it is officially licensed by Stonemaier Games.
Free shipping to U.S. over $150.
$20 refund to non-U.S. orders over $100.