Century Spice Road™ compatible Deluxe Token Bundle (set of 107)
Century Spice Road™ compatible Deluxe Token Bundle (set of 107)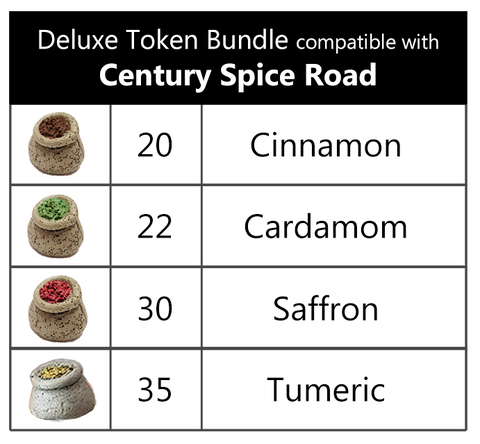 Century Spice Road™ compatible Deluxe Token Bundle (set of 107)
by Top Shelf Gamer
Description:
Upgrade your wooden cubes with this set of deluxe realistic resource tokens.

All pieces are composed of pre-painted resin, providing each with excellent durability and a hefty weight.

This bundle comes with a total of 107 high quality tokens:
20 sacks of brown cinnamon 
22 sacks of green cardamom
30 sacks of red saffron
35 sacks of yellow turmeric

Each token is approximately 15mm in diameter and 11mm high. 

Century Spice Road™ is a copyright of Plan B Games. All rights reserved. No challenge to any intellectual property rights are intended or implied by representations of compatibility and no endorsements of this product by any other company is implied or represented.
Free shipping to U.S. over $150.
$20 refund to non-U.S. orders over $100.