Concordia Venus™ compatible Deluxe Token Bundle (set of 102)
Concordia Venus™ compatible Deluxe Token Bundle (set of 102)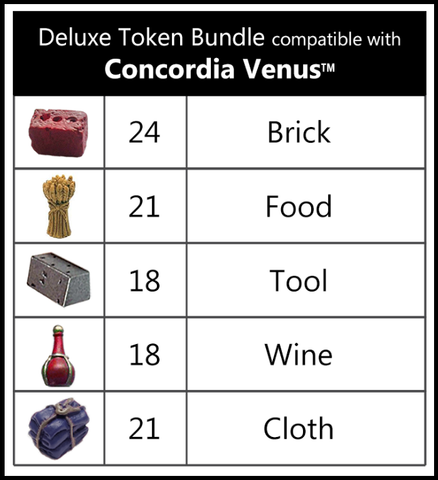 Concordia Venus™ compatible Deluxe Token Bundle (set of 102)
by Top Shelf Gamer
Description:
Take your game of Concordia Venus
™
 to the next level with this amazing bundle of tokens
. 
Acquiring and trading resources is so much more satisfying when playing with quality pieces.  And it makes the game look great!
The tokens that come with this bundle are:
24 brick
21 food (wheat sheaf)
21 cloth
18 tool (iron ingot)
18 wine
All these pieces are made from resin or metal (the Tool token) and are durable and pre-painted.
This is an unofficial third party product. Concordia Venus™ is a copyright of Rio Grande Games. All rights reserved. No challenge to any intellectual property rights are intended or implied by representations of compatibility and no endorsements of this product by any other company is implied or represented.
Free shipping to U.S. over $150.
$20 refund to non-U.S. orders over $100.