Euphoria™ compatible Deluxe Token Bundle (set of 105)
Euphoria™ compatible Deluxe Token Bundle (set of 105)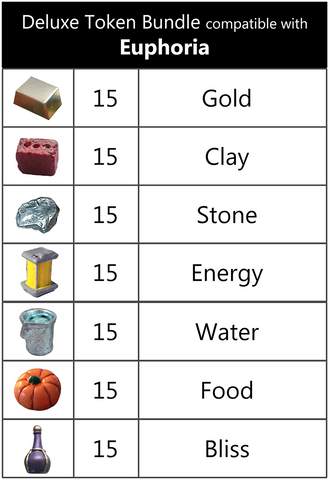 Euphoria™ compatible Deluxe Token Bundle (set of 105)
by Top Shelf Gamer
Description:
Using premium tokens you can enhance your Euphoria
™
 game play with these realistic tokens.
v2.0, March 2018: Uranium replaced with Energy Cell, Corn replaced with Pumpkin, and wooden Water Drop replaced with Bucket of Water.
The bundle includes the amount needed for the game:
Euphoria™ is a copyright of Stonemaier Games. All rights reserved. No challenge to any intellectual property rights are intended or implied by representations of compatibility and no endorsements of this product by any other company is implied or represented.
Free shipping to U.S. over $150.
$20 refund to non-U.S. orders over $100.