Imperial Settlers™ compatible Deluxe Token Bundle (set of 85)
Imperial Settlers™ compatible Deluxe Token Bundle (set of 85)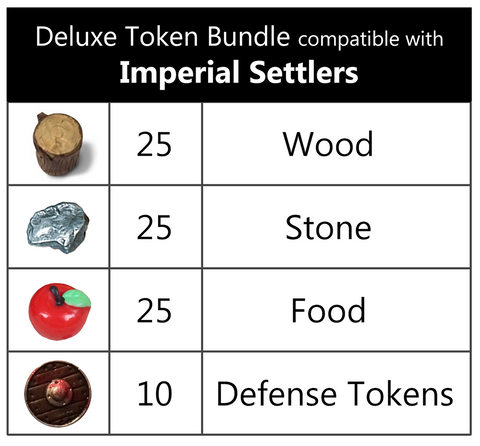 Imperial Settlers™ compatible Deluxe Token Bundle (set of 85)
by Top Shelf Gamer
Description:
With these incredibly crafted tokens, take the wonderful game of Imperial Settlers
™
 to the next level!  These realistic resource tokens by Stonemaier
™
 Games give the acquiring and spending of resources more impact than the wooden tokens that come with the game.  And they make the game look great, too!
The stone is made of a hefty metal, the wood and defense tokens of well painted resin, and the apples of quality plastic.
If you like Imperial Settlers
™
, we highly recommend picking up a copy of this token set.
This bundle comes with the following tokens:
10 defense tokens
Note that there are five fewer tokens of each type in this bundle than come with the game.  This amount should be fine for gameplay and allows us to offer this bundle at a lower price.  If you feel you need more of any token type, you can find 10-sets of every token type on our store.
Imperial Settlers™ is published by

 

Portal

 

Games. All rights reserved. No challenge to any intellectual property rights are intended or implied by representations of compatibility and no endorsements of this product by any other company is implied or represented.
Free shipping to U.S. over $150.
$20 refund to non-U.S. orders over $100.