F.A.T. Mat Asteroid Belt 3x3'
F.A.T. Mat Asteroid Belt 3x3'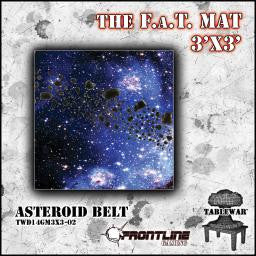 F.A.T. Mat Asteroid Belt 3x3'
Description:
*Note: Please order separately.  If ordered with other products, you may be contacted for extra shipping costs.
Frontline Gaming Mats are beautiful, durable mats, perfect for tabletop games. This mat is about 2mm thick.
These mats are extremely durable, printed on a water resistant surface affixed to a neoprene backing. That means the mat won't slide around on the table, lays flat, resists water and looks amazing.
They now come with a sturdy, nylon zip-up F.A.T. Bag for storing and transporting your F.A.T. Mat, and full color F.A.T. Tag so that you can see which mat is in the bag without having to open it, and to write your name on to show which mat is yours.
Due to the nature of the materials used in manufacturing F.A.T. Mats there may be slight variations from the sizes listed.
Free shipping to U.S. over $150.
$20 refund to non-U.S. orders over $100.