Orléans - Location N°5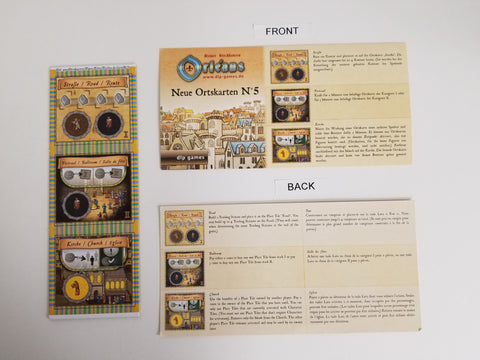 Description:
Three new place tiles:
Road
- Build a Trading Station and place it on the Place Tile "Road".  You may build up to 4 Trading Stations on the Road. (They will count when determining the most Trading Stations at the end of the game.)
Ballroom
- Pay either 2 coins to buy any one Place Tile from stack 1 or pay 3 coins to buy any Place Tile from Stack 2.
Church
- Use the benefits of a Place Tile owned by another player. Pay 2 coins to the owner of the Place Tile that you have used. You can only use Place Tiles that are currently activated with Character Tiles. (You must not use Place Tiles that don't require Characters for activation). Remove only the Monk from the Church.  The other player's Place Tile remains activated and may be used by it's owner later.
Free shipping to U.S. over $150.
$20 refund to non-U.S. orders over $100.