PREMIUM Mayday Card Sleeves: 61 x 103mm (set of 50)
PREMIUM Mayday Card Sleeves: 61 x 103mm (set of 50)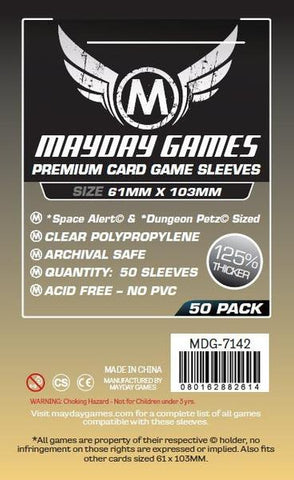 PREMIUM Mayday Card Sleeves: 61 x 103mm (set of 50)
by Mayday Games
Description:
"Space Alert" & "Dungeon Petz" Card Sleeves
Expertly engineered card sleeves to protect all of your 61x103mm cards!
Popular for use with:
Space Alert™
Dungeon Petz™
Many more!
About these card sleeves:
Custom crafted for cards sized: 61x103mm
Best fit in the industry!
100% Archival Safe
Acid-Free
PVC-Free
Clear Polypropylene
Free shipping to U.S. over $150.
$20 refund to non-U.S. orders over $100.