PREMIUM Mini USA Card Sleeves : 41 x 63mm (set of 50)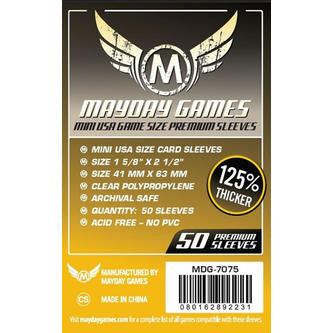 PREMIUM Mini USA Card Sleeves : 41 x 63mm (set of 50)
by Mayday Games
Description:
This sleeve set is a 50 pack of card sleeves that are designed to protect any card with dimensions of 41 x 63 mm.
Premium Mayday sleeves are 125% thicker than their standard thickness sleeves. These sleeves offer a sturdier case and stronger protection for your cards. 
Free shipping to U.S. over $150.
$20 refund to non-U.S. orders over $100.