Robinson Crusoe™ Acrylic Health Tracker Set with Friday (Z-Man Edition
Robinson Crusoe™ Acrylic Health Tracker Set with Friday (Z-Man Edition)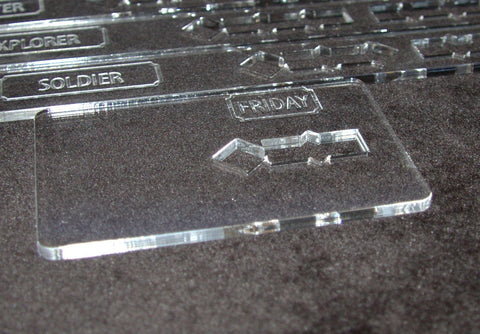 Robinson Crusoe™ Acrylic Health Tracker Set with Friday (Z-Man Edition)
by Board Game Innovation
Description:
Set of 4 Health Trackers plus Friday. Have you ever accidentally moved your Health Cube while playing a game of Robinson Crusoe? Reach for your drink, another piece on the board and suddenly you have 2 more or 2 less health than you did before, or maybe the Cube isn't even on the tracker anymore? Our Custom Laser Cut Tracker Set will keep your cubes in place during game play.  Patent Pending
**This product is made from clear acrylic, it may come with a colored protective coating on one side. Use a fingernail to scrape the coating away from the edge and then peel it from the back of your stands.
Free shipping to U.S. over $150.
$20 refund to non-U.S. orders over $100.