Twinples for Magic Maze™ (set of 4)
Twinples for Magic Maze™ (set of 4)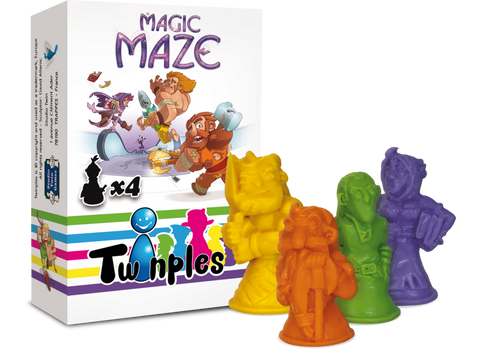 Twinples for Magic Maze™ (set of 4)
Description:
Add some amazing bling to an already amazing game, with these sculptured Twinples pawns for Magic Maze
™
!
These Barbarian, Dwarf, Elf, and Mage pieces will definitely help immerse you and your friends in the theme of the game.  Plain old pawn or a piece that looks like the actual character you're playing?  You decide.
This set comes with four pawns to represent the following player characters:
Barbarian (yellow), Dwarf (orange), Elf (green), and Mage (purple).
Each piece is of standard size for the game and measure 12mm x 24mm.
Free shipping to U.S. over $150.
$20 refund to non-U.S. orders over $100.